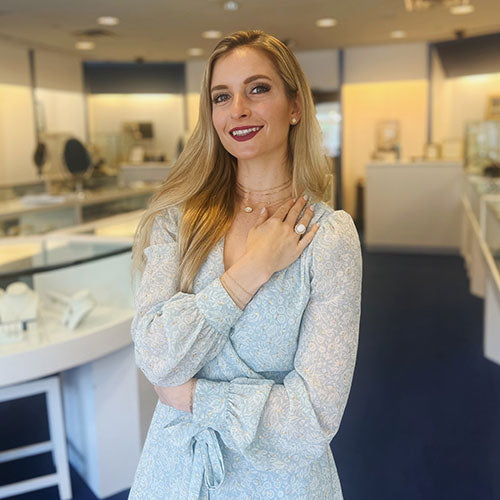 Alexis Mastmeier
More recently, Alexis has decided to join the family business, leaving a lucrative and promising IT job in Atlanta, Georgia in order to bring her skills and expertise to Blue Diamond Jewelers. Coming from years of software sales experience, she longed to become a part of something that held true meaning, and what better avenue than the very business she grew about with? To continue a legacy of Blue Diamond Jewelers, as the 4th generation. Although recently joining, she has always been involved and was taught sales techniques and pearl stringing at the young age of 13.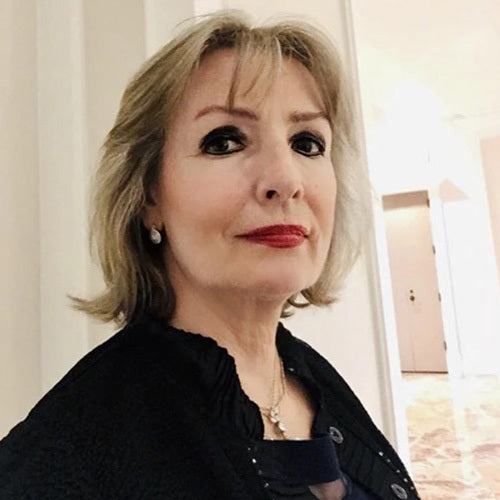 Nicole Mastmeier

Nicole married into the business, and lets just say her husband and pioneers of the business could not have done it without her! She has always been the sales guru, and although he passed years ago, she took everything she learned and has continued to serve the community in Estero going on 14 years. She is the expert when it comes to all things having to do with design, custom work, and repairs. 
Our History
For over years, has been one of the most trusted names in jewelry in the region. We are a well-established jewelry store that has grown with our community from a small store to a multiple brand jewelry retailer. We have served generations of families as their trusted jeweler for brilliant diamonds, beautiful fine jewelry, elegant watches, treasured gifts, custom made styles and expert jewelry repairs. is committed to make every customer "feel at home" with our personalized service and our classic to cutting edge jewelry designs. Our years of experience and services have built a legacy of integrity and trust with our customers.

At our mission has always been a tradition of trust, high ethical standards, knowledge of our jewelry products and services, fair pricing and value to our customers.
Blue Diamond has done it again! Every time we walk out of their beautiful boutique, we are more amazed at their customer service and attention to detail. Let's face it, jewelry is just metal and stones. But Alexis makes it so much more than that. She takes the time to understand what her clients want and allows them to make their own decisions while at the same time, providing valuable input. Blue Diamond is a family business that treats their customers like an extension of their family.
Love this place!! Such beautiful jewelry! Everyone is so incredibly helpful and so nice. Alexis is so incredibly helpful. I'm from out of town and wanted something specific and needed it by a specific day. She didn't have it in stock but she didn't hesitate to offer to have it shipped over night. I picked up my necklace the next day and it was even more beautiful than I thought! I'll definitely be back the next time I'm in the area! I highly recommend Blue Diamond!

Can't recommend this family owned jeweler enough! Went back and made a second purchase because I had such a great experience! Alexis and her mom were supremely helpful walking me through my first significant jewelry purchase for my girlfriend. I didn't know much about jewelry, carats, design trends etc. and they were perfect in educating me while not throwing too much information at me to be overwhelming. They have great trendy pieces, but also make a point to carry really unique pieces that you're not going to find with online retailers. My girlfriend loves her necklace and charm and wears it all the time!
I have never felt more connected or at home with any other store. I loved the customer service and the patience she had with me. The ring was custom made and my own. The personalization of your own jewelry makes the experience feel unique and special to the customer. All around the blue diamond jewelry is a very welcoming environment, from the staff to the experience it is and will always be my place to go to buy anything in jewelry and or gifts for my significant other. Thank you so much for everything you have done. I hope to be back soon 😊

My experience with Blue Diamond Jewelers was super informative and smooth. Nicole helped me design the perfect ring and my fiancé loves it!!! You can trust Nicole and the staff and know that you are in good hands. Highly recommend!
Nicole is a wonderful designer and person. I love her jewelry, I have to fight with myself to keep from going into the store all the time. When it is the right time to buy jewelry, this is where I go!
Nicole was amazing to work with. Her entire team delivers exceptional customer service. She took my grandmothers' diamonds and made my design come true. Now I wear my beautiful diamonds everyday instead of them sitting in a jewelry box. Many thanks to she and her team and I highly recommend you pay them a visit.
Nam tempus turpis at metus scelerisque placerat nulla deumantos delo sollicitudin delos felis. Pellentesque diam dolor an elementum et lobortis at mollis ut risus. Curabitur semper sagittis mi condimentum...